Holiday Gift Shop, Santa's Secret Shop, Winter Wonderland Shop, Holiday Shoppe, etc.. Some of the many names that the Holiday Gift Shop has been referred to as.
So what is a Holiday Gift Shop? Quite simply, the Holiday Gift Shop is a chance for students to shop for gifts for their family during the holidays. It is a magical experience that allows the students to pick out gifts for each family member. The kids put in so much thought and care into picking a gift that they want to give their loved ones. It is absolutely adorable watching them pick each gift, deciding which gift that their loved one would like the most. Personally, my favorite gifts every year are the ones from Holiday Gift Shop. Seeing what the kids chose for me each year just melts my heart. I think of them every time I have my morning coffee with my Best Uncle mug.
In addition to being a program that the kids love and cherish for a lifetime, it is also an opportunity for your organization to hold a fundraiser. Holiday Gift Shop profits typically range from 10%-35% (But be warned, some companies don't offer profit on items under $1). This program is not the biggest fundraiser but it is by far the most magical for the kids.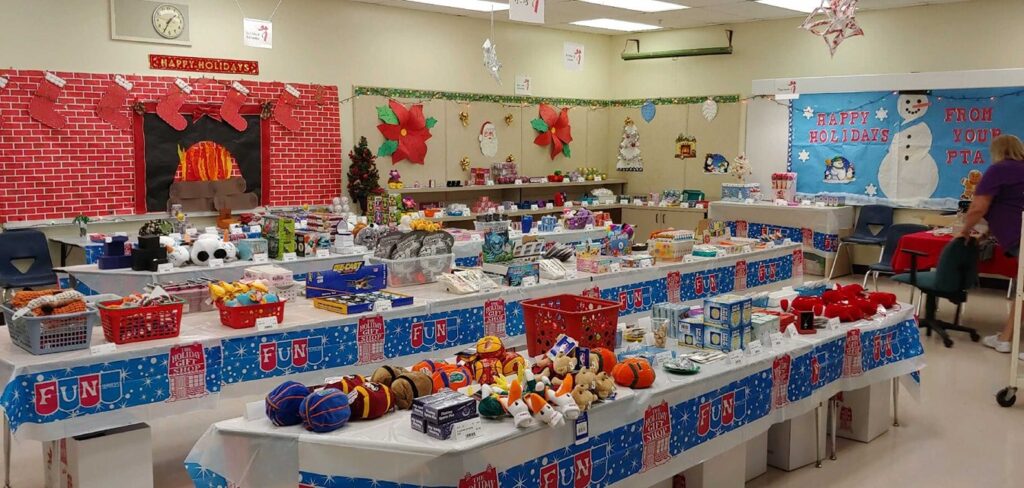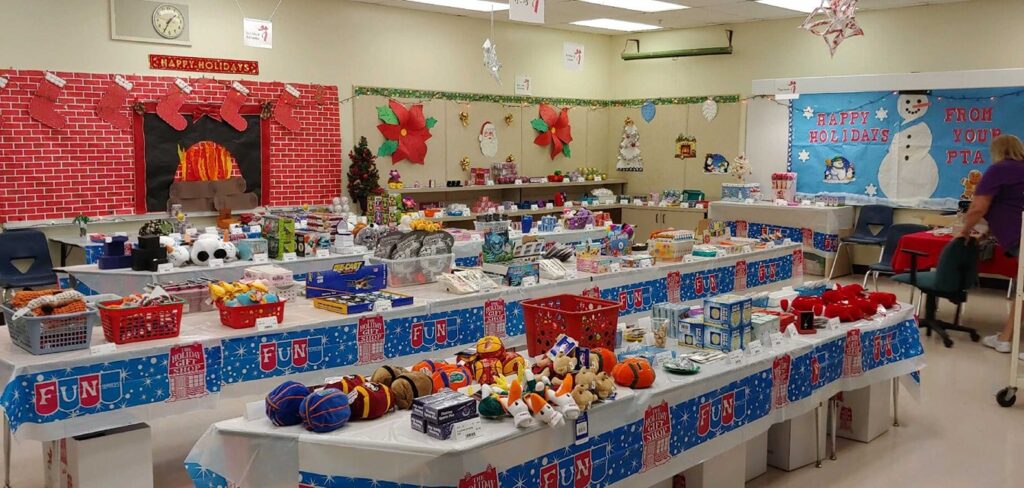 So what kind of gifts are offered? This varies a lot between companies but typically there is a wide range of gifts so that there is something for everyone in the family. #1 Dad mugs, Mom Photo Frames, Uncle keychains, Best Aunt Necklaces, Grandma Heart Necklaces, and so much more! Just to give you an idea, here is what we offered in 2021: View Our Gift Line. When you are looking at Holiday Gift Shop companies make sure that they're more than just a toy store. If you want the students to be able to shop for gifts for all of their family members, make sure your vendor has gifts in every category. Vendors typically carry anywhere from 50 to 200 different items (We carry between 125 and 175 each year). This allows the students to be able to choose a gift for each loved one that is within their price range. When a student is shopping for 5-10+ people the gifts have to be affordable.
Here are some pictures to give a better idea of what a Holiday Gift Shop can look like. These were submitted by amazing customers who go above and beyond for their students!